Full Relief Package
$179.98 $209.94
The Fisher Traction Full Relief Package includes everything you need for full neck and lower back decompression, at $30 off!

This includes: 
Neck Device
Lower Back Device
Shoulder Wedge
Knee Wedges
30 Day Money Back Guarantee included with all orders. Try it risk free!
Customer Reviews
01/10/2022
Vincent

United States
I recommend this product
Best home traction I've ever seen!
I loved it. I have been looking for a traction device at home that was as strong as the one at my chiropractor's office and I finally found it! I tried a bunch of others including the neck hammock which was nothing compared to this. Fisher traction has so much pull that my head goes numb on the top just like at my chiropractor's office. I just lay on my flow at night and let it do the pulling. I felt the numbness in my finger tips go away almost immediately after the very first use. I can lay in the traction now for up to 20-25 min and I almost go to sleep it's so relaxing. This traction really pulls there is nothing else like it that I have seen in 10 years of looking. Get it.
01/10/2022
Nikki

United States
I recommend this product
I love mine!
After using my low back Fisher traction for about 1 week straight I can tell a huge difference. At first I wasn't sure but after the consistent use and after I went to the gym to try and lift my normal weights (squats 135lb) I could totally tell it's help me. My back pain is gone and my back feels more stable I think. I'm going to keep on using it for the 21 days like the inventor says on his video.
01/05/2022
Marilyn I.

United States
I recommend this product
I am amazed! Took about a week but I feel so much better now!
I am very thankful that I watched the doctor's videos on youtube. The 21 day challenge was the video that I'm most thankful for. I started to use the low back device and at first it didn't seem like it was doing much. I went through the fisher traction youtube videos to make sure I was doing it right. After i watch the 21 day challenge video which said use it every day for the first 21 days I did. I tried to use it at the same time each night like Dr. F said to do. After about the 5 or 6th day of consecutive use I really started to notice a difference. It makes sense since I'm over 50 and my back problem has been around for years it would take time for it to change and start to get better. by about the 3rd week I could tell I was so much better. I had virtually zero pain but my back felt so much looser where I could move better. My back hasn't felt this good in years. It really works but the key for me was to keep using it over and over until I finally went past a point where I was better. Now I use it about once a week for maintenance just to make sure it doesn't come back. The fisher traction videos are really good and very informative.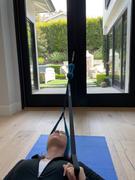 12/27/2021
Charles S.

United States
I recommend this product
Get yours now
Definitely is a added tool for you're pain relief tool box
10/26/2021
JODY M.

United States
I recommend this product
Simple and effective
Great tool overall.. Bit of getting used to and making gradual progressions to tighter tension. Travel companion DEFINITELY !!!