As Seen In

Our Customers Say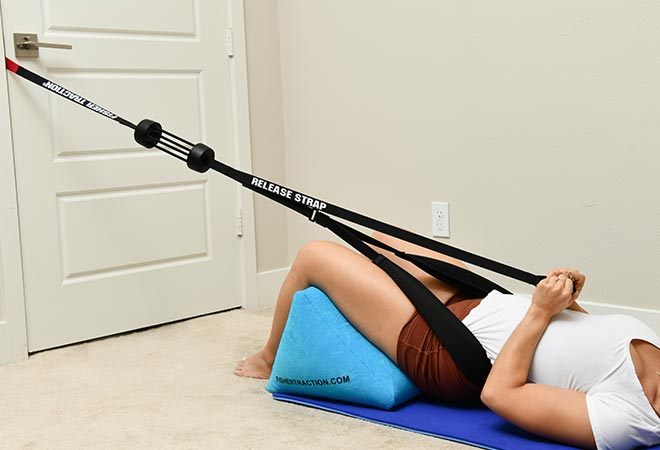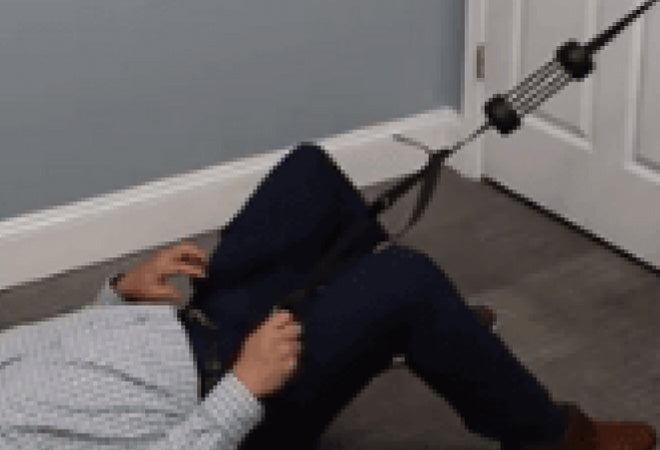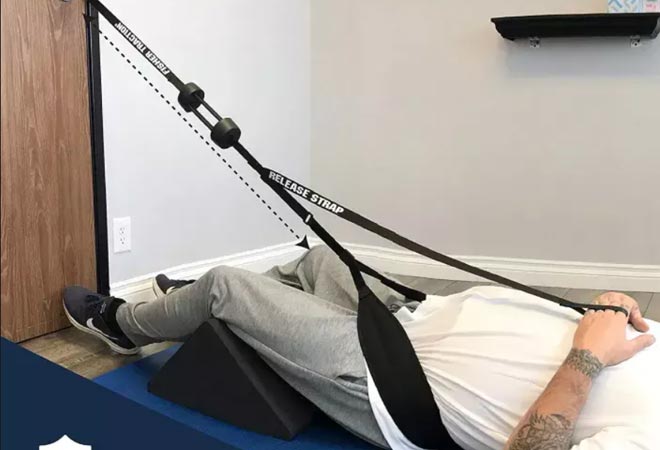 Our Customers Say

I love mine!
"After using my low back Fisher traction for about 1 week straight I can tell a huge difference. At first I wasn't sure but after the consistent use and after I went to the gym to try and lift my normal weights (squats 135lb) I could totally tell it's help me. My back pain is gone and my back feels more stable I think. I'm going to keep on using it for the 21 days like the inventor says on his video."
Nikki

"I have waited a few months to write this, I have tried everything, and I mean everything to get relief from a real bad case of siratica. You name it, I've tried it. I accidentally stumbled across a local PT that offered mechanical decompression, and for the first time in six years I felt real relief. I purchased twelve sessions for about $800.00, but began my search for something I could do at home,".. read more
Brad

Saves Time and Money!
"I purchased the stronger device and I'm loving it so far. It's really great to be able to take care of my back at home vs spending $120 per session at a local doctor's office. The place where I was going only went up to 115lbs of decompression and I needed more.It saves me time and money and is WAY more convenient. If you have disc issues, Fisher Traction is going to help you!"
Justin
Why Do We Have Back Pain?
An Injury to Muscles, Tendons, Ligaments
Herniated Disc
Pinched Nerves
Poor Posture
Common Treatment Options
Pharmaceutical Drugs
(Temporary, addictive & hides the problem)
Inversion Tables
(Awkward,uncomfortable and unsafe)
Surgery
(Expensive, permanent, and high risk)
Injections
(Expensive, painful, and low success)
Doctor & Therapy Visits
(Costly and Time Consuming)
Relief Is On The Way!
Fisher Traction Low Back Device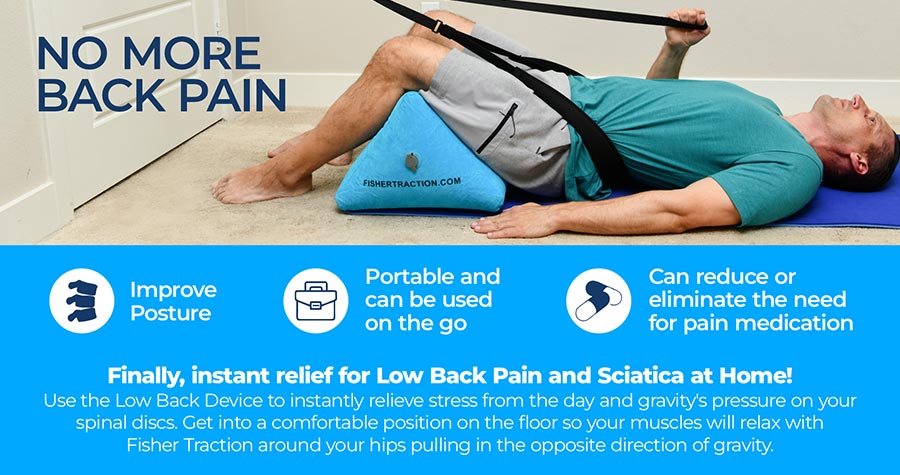 Gravity-Powered and User-Controlled
Fisher Traction's Patented Negative G-Force Technology enables you to fully regulate spinal decompression intensity and pace.
Through its unique manual release strap and flexible bungee doorframe attachment secured at a 30° angle, the Fisher's Traction Low Back Device gradually decompresses your spine at an adjustable rate.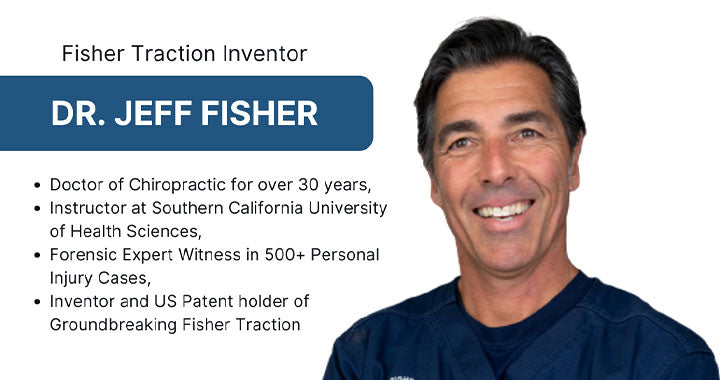 A Chiropractor's Solution To Back Pain
Invented by one of America's leading Chiropractors, Fisher Traction Low Back Device is FDA-cleared and backed by rigorous scientific research.
With decades of experience working with thousands of patients at his private clinic, Dr. Jeff Fisher personally developed his mobile traction system as an immediate, convenient and affordable at-home alternative to traditional in-office treatments.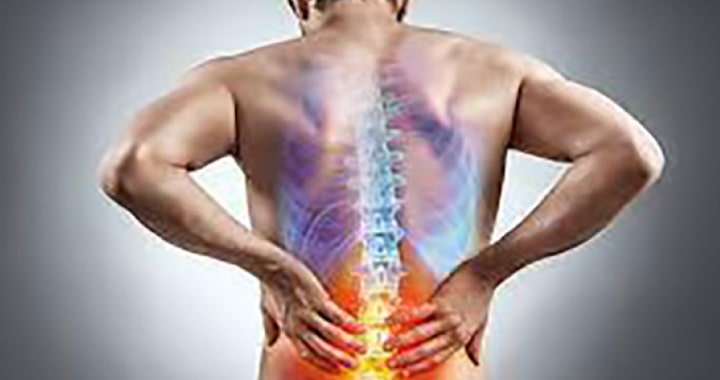 Professional Grade Decompression Device
With only 15 minutes of daily usage, Fisher Traction creates gentle spinal stretching and pulling that allows the discs in the spine to rehydrate and relieve pinched nerves, providing pain relief and helping to restore the neck to its natural healthy function.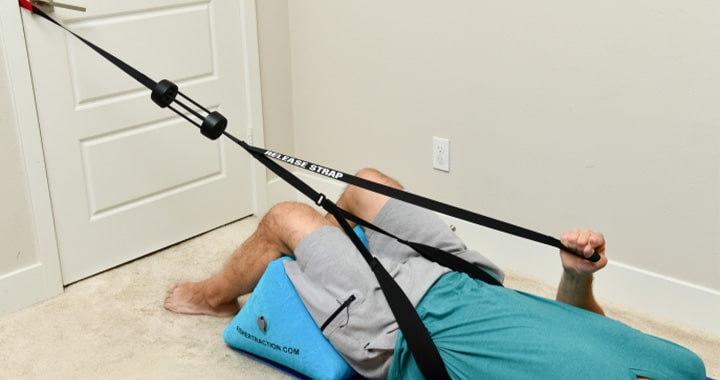 Maximize Relief With Minimal Effort
By using the Fisher Traction Low Back Device daily for 15 minutes at a time, you can restore natural spinal mobility, rehydrate discs, and relieve pinched nerves for instant pain relief.
Fisher Traction Is Changing Lives Everyday!
Dr. Fisher Has Successfully Treated Over 300,000 Patients And He's Just Getting... Started
Fisher Traction Is A Cost-Effective Investment
With Lifelong Benefits For Your Spinal Health.
Slip the red loop over any exterior door handle, and close door from inside.
Slide the waist belt over your head, down to your hips and sit down on the floor.
Position your body so bungies are taught, then slowly lie back on the floor. Decompress at your own pace with release strap.
Shop Other Fisher Traction Best Sellers
Neck Traction Pack
Now $139.99
Reg. $149.99
Save $10.00
Package includes:
Fisher Traction Neck Device
Inflatable Shoulder Support
Fisher Traction Tote bag
Low Back Device
Now $129.99
Reg. $149.99
Save $10.00
Package includes:
Fisher Traction Back Device
Combo Pack
Now $239.98
Reg. $279.98
Save $40.00
Package includes:
Fisher Traction Back Device
Fisher Traction Neck Device
Inflatable Shoulder Support
Fisher Traction Tote bag
With A One-Time, Low-Cost Investment
Fisher Traction Offers The Same Spinal Decompression Benefits As Expensive In-Office Traction Tables
Rehydrates discs and corrects spinal alignment
Releases pinched nerves for instant pain relief
Improves mobility by remobilizing the spine
Restores natural curve and low back function
Provides both immediate and long-term relief
Enhances flexibility and eases muscle strain
Get Your Fisher Traction Low Back Device Today!
Get It Now
$129.99
$139.99
100% RISK-FREE RETURN POLICY! 30-DAY GUARANTEE
Take Back Your Quality of Life - TODAY
It's As Easy As Lying Down
About the Inventor
Fisher Traction was created by California Chiropractor Dr. Jeff Fisher, who has been practicing for more than 30 years and has treated and helped over 300,000 patients experiencing back and neck pain.
As a result of personal and family experience with acute spinal trauma and disc herniations, Dr. Fisher saw the need for an affordable, safe, and effective at-home treatment that anyone could access. It was after many hand-crafted prototypes and years of research that Fisher Traction was ready for the market.
Customer Reviews
08/14/2023
Anonymous

United States
I recommend this product
Number one traction device
Distraction device works well It really helps after warming up in the morning to use this before I go to work. And to end my stretching routine before bed.
07/18/2023
Phillip W.

United States
I recommend this product
Finally, a traction device that I can use laying on my back.
Review by Phillip W on May 29, 2023 It is the device that I have been looking for. Traction for my spine while laying on my back. What pain I had has been reduced. I expect to use it every night prior to bedtime.
07/18/2023
Fisher Traction
Phillip thanks for the great review!
07/18/2023
JD

United States
I recommend this product
Fantastic product and easy to use!
Review by J d on July 8, 2023 I had a spinal fracture two years ago. This traction unit has made the biggest difference for my recover. It keeps me from getting flair ups and reduces the degeneration on my spine overtime. I can't afford to let my spine degenerate anymore after my fracture, so this is exactly what i need! i can use it laying on my belly or my back. It's easy to bring with me for trips after long drives. Weather you have back problems or not i think everyone can benefit from this. Afterall we only get one spine, it's worth taking care of!
07/18/2023
Fisher Traction
Thanks JD for the great review! Glad we were able to help.
06/25/2023
Anonymous

United States
I recommend this product
Helps a lot
Help relieve bad back pain. Not a cure all buts helps overall!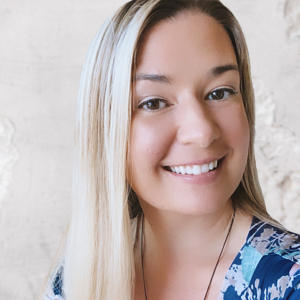 S
06/04/2023
shaylee

United States
I recommend this product
Exactly what I needed!
Review by Shaylee on March 26, 2023 I've been looking for a device to help stretch my neck and back for quite some time. While other products have helped, nothing has given me the stretch that this product does! So thankful to have found it!