Combo Pack
$239.98 $279.98
The Fisher Traction Total Wellness Pack includes both the Lower Back Relief and Neck Relief devices, at $40 off!

This includes: 
Fisher Traction-Neck
Fisher Traction-Back
Inflatable Shoulder Support
Fisher Traction Tote Bag
30 Day Money Back Guarantee included with all orders. Try it risk free!
Customer Reviews
100
reviewers would recommend this product
Write a Review
01/05/2022
Marilyn I.

United States
I recommend this product
I am amazed! Took about a week but I feel so much better now!
I am very thankful that I watched the doctor's videos on youtube. The 21 day challenge was the video that I'm most thankful for. I started to use the low back device and at first it didn't seem like it was doing much. I went through the fisher traction youtube videos to make sure I was doing it right. After i watch the 21 day challenge video which said use it every day for the first 21 days I did. I tried to use it at the same time each night like Dr. F said to do. After about the 5 or 6th day of consecutive use I really started to notice a difference. It makes sense since I'm over 50 and my back problem has been around for years it would take time for it to change and start to get better. by about the 3rd week I could tell I was so much better. I had virtually zero pain but my back felt so much looser where I could move better. My back hasn't felt this good in years. It really works but the key for me was to keep using it over and over until I finally went past a point where I was better. Now I use it about once a week for maintenance just to make sure it doesn't come back. The fisher traction videos are really good and very informative.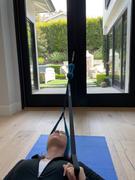 12/27/2021
Charles S.

United States
I recommend this product
Get yours now
Definitely is a added tool for you're pain relief tool box
06/20/2021
Stephen H.

United States
I recommend this product
Easy and Rapid Pain Relief
From the moment that I unboxed the Neck and Back devices I was able to start using them. They are sturdy and comfortable to use. The best thing is how quickly I received relief from my pain. Do yourself a favor and invest in your health with the Fisher Traction products!
07/03/2021
Fisher Traction
Thanks for the great review, we are happy that your Fisher Traction is working for you!
05/24/2021
Colin S.

United States
Decompress
Almost Immediate relief. Great product
06/09/2021
Fisher Traction
Colin that's awesome thanks! Dr. F.
02/21/2021
Darlene S.

United States
Great space saving product.
I carry a lot of tension and stress in my neck and shoulders and the first time with the neck unit I had so much relief. I got rid of my inversion table because I did not have the room for it and this is a lifesaver!